Brisbane-based sustainable and ethical jewellery brand Medley is the place to shop for your fine, and demi-fine jewellery pieces if you are at all concerned about where your accessories come from. 
The Medley brand describes itself as offering jewellery that's "modern, ethical, affordable, and crafted for longevity", designing for people who appreciate style but not at the cost of the environment or the working conditions of others. 
SUSTAINABLE & ETHICAL JEWELLERY
"From the onset Medley jewellery has partnered with suppliers who are vetted by the Responsible Jewellery Council," explains Medley's General Manager, Amber Hodgman. "This choice was instrumental in allowing us to understand the key requirements of ethical and sustainable sourcing. 
"The jewellery industry has spent many years establishing better practices, whether it's laboratory grown diamonds rather than mining or conflict-free sourced gold. 
"As a brand we often talk about longevity in our styling and product design but this is redundant if we don't simultaneously address the longevity of our plan and people and where our products are sourced," says Amber.
Medley is also backed by MHJ International, a certified member of the Responsible Jewellery Council in Australia. 
My favourite piece of jewellery is the very thin 10K gold ring I wear on my thumb, it's dainty which I like, but durable. I like jewellery that doesn't have to be removed even though I have been told that it's best practice to remove it before showering, oh well! I also wear a single diamond letter A stud in my right ear. Jewellery is best for personalising your style, having fun and making it unique to your style! – Amber Hodgman, General Manager at Medley
Amber says that there are a few important things to know about buying fine jewellery; there are some questions you need to ask the brand or creator before you put down your cold, hard cash.
"Where have the raw materials been sourced? Are they ethically sourced? Have they been mined in lawful, conflict free environments free of war? How are they made? Do the factories give back to their communities? Are they female owned and/or operated? How does the brand design? Do they make for longevity? Do they care about quality? Do they pay fair prices for their products?
"It's important to value our hard earned dollars and put them towards brands that share the same values. Nothing speaks louder than putting your money behind something. Over time all businesses will need to care about their practices in order to sell their products. We have a responsibility to our community and planet. We need to be conscious consumers, creators and carers," Amber says.
"Personally I have found the jewellery industry fairly trustworthy with their claims – having come from the fashion industry, where this is not always the case). The jewellery industry has a dark history and subsequently has spent a lot of years cleaning up its act.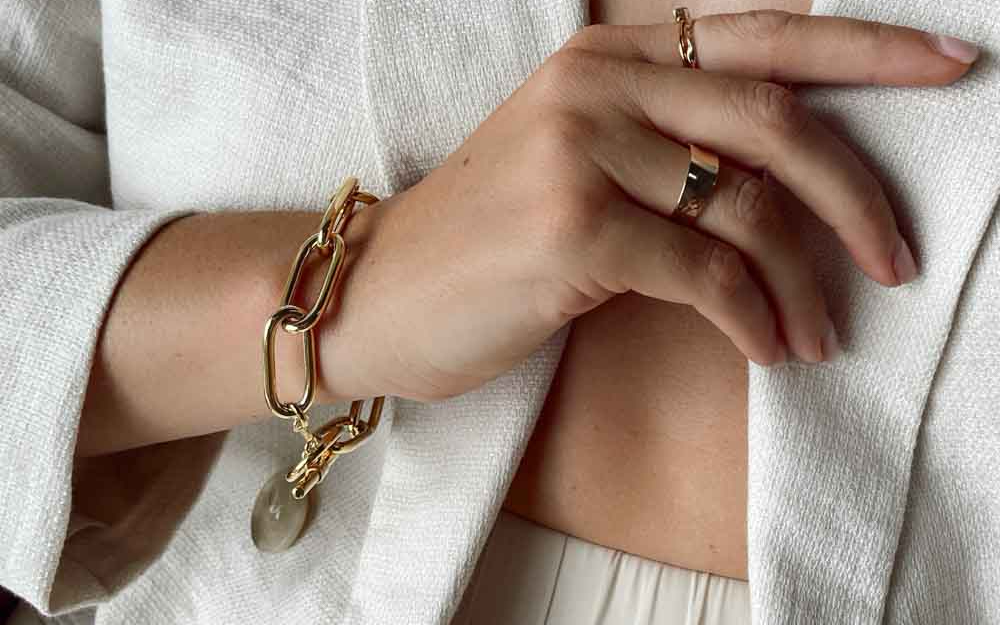 "[So] try and ascertain whether the brands [you are interested in buying] are certified in any way. Invest in small, handmade brands where you can and get to know the owners or creators even if it's only via social media," suggests Amber for those who want to help ensure they are shopping sustainably and ethically.
IT'S NOT EASY BEING GREEN
As an Australian brand, Amber admits that it was difficult for Medley to create sustainable and ethical jewellery. "We would be lying if we said it's not difficult. It's a work in progress, one that we are always striving to improve upon. We are still trying to understand the long term impacts of mining raw materials," explains Amber. 
"However, unlike a lot of fashion, jewellery can be circular. The metals can be melted back down and the stones polished and repurposed. This is something that Medley would love to explore in the near future, a take back program of sorts. Circular economies are crucial to long term business planning."
Although Medley pieces are designed in Australia, the majority of the products are produced in Italy, India and Thailand, says Amber.
"Each country has long standing expertise in certain manufacturing processes. For example, Italy houses some of the world's best chain machines and gold suppliers. We work with small, family run businesses as our quantities are small and limited," she explains. 
"In Australia, we have a fantastic QC [quality control] team who check our pieces on arrival and this helps give our customers the best quality for a fair price. We put a lot of trust in our suppliers and offshore teams."
According to Amber, Medley ensures the sources for their materials are sustainable and ethical by working with producers who have been certified by the appropriate organisations. She does admit, however, that sometimes that option is not available or adds to design limitations.
"For example, currently through our vendor base we are unable to certify very small laboratory grown diamonds so we use ethically mined diamonds instead because we want to verify all laboratory grown diamonds we sell. 
"However, very small laboratory diamonds when made via solar power can be both sustainable and have a great shine so it would be nice to offer these to our customers. It's always hard striking a balance between design, materials and technology," Amber explains.
Shop Medley online at medleyjewellery.com.au. You can follow the brand on Instagram at @medleyjewellery.
Discover more interesting Australian brands in our Brands & Designers Section.