By Keely Deighton
Lenny Ivers is a Melbourne based luxury handbag brand driven by sustainability and created to "empower women". From Margaret Thatcher's and the Queen's top-handled bags to the latest celebrity 'it' bag, handbags have been used by women to signal everything from political power to having a fun personality – looking at you Gucci.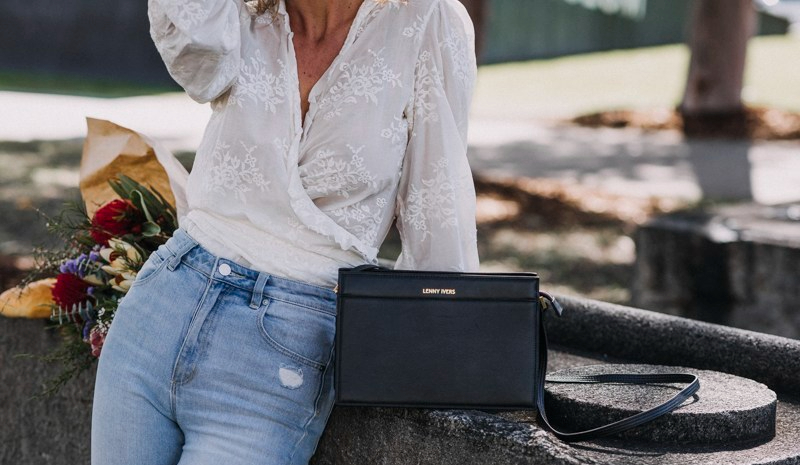 Aiming to minimise waste across the supply chain, the European leather used in all designs is a byproduct of the meat market in Italy and all designs are made overseas in small runs to avoid overstock. Lenny Ivers offers a small range of premium, handbags and wallets inspired by simple lines and Parisian elegance. Currently all accessories are manufactured overseas apart from the Jojo tote, but this will be changing in 2021.
The owner and founder of Lenny Ivers, Joanne Anson, named the brand after her beloved grandparents, Lenny from her grandfather and Ivers was her grandmother's maiden name.
Joanne believes that Australian shoppers are currently more interested in buying "local". "I think that Australians want Australian made/designed quality products from a small business and to be successful [these brands] need to stand out from the crowd."  
Despite the upheavals of the COVID crisis, Joanne has found a way to keep pushing forward with designing luxury items as well as managing the ever changing climate of the fashion industry. 
Joanne says that business "has been really slow as I understand that my styles are just not a necessity for people right now, but I've managed, and I keep pushing forward." However Joanne hasn't given up growing her brand, despite the current situation. "Growing an audience on social media and educating people on my products is probably the biggest challenge," she explains, saying that she will keep slogging away at it until she makes a break-through.
To ensure sustainability across the brand, Joanne offers a repair service for all products to ensure customers reuse their purchases for as long as possible. The leather used in the products meets REACH regulations, meaning the chemicals used in the process are monitored and are safe for the workers to be around as well as protecting the environment.
"I only use sustainably sourced leather and only produce small runs in production so there is no waste. The designs are also made to last so consumers don't have to constantly purchase new products that will just end up in landfill." Joanne says.
Lenny Ivers offers a range of classic leather bags in black and tan tones with golden accents, ranging from perfectly proportioned round coin purses, to structured handbags that are perfect for the office as well as a stylish city tote bag.
Joanne remains positive for her chosen industry too. "I hope to see people in Australia supporting local brands more and a larger movement towards sustainability. As well as massive growth for Lenny Ivers!" 
You can find Lenny Ivers products on the website, and on instagram @lenny_ivers
Discover more interesting independent Australian fashion brands in our list of Brands & Designers.