Designer of Melbourne fashion brand Era97, Monique Maugeri, grew up watching her Italian seamstress and patternmaker grandmother at work. Her grandmother would fix and alter her clothes when she was a teenager, but as she aged Monique taught herself to do it herself.
"From that I began experimenting with different fabrics and taught myself how to make clothes and other accessories from scratch, as well as patternmaking. I actually began sewing on my kitchen table and then eventually cleared out a space in my house for my very own sewing room," explains Monique.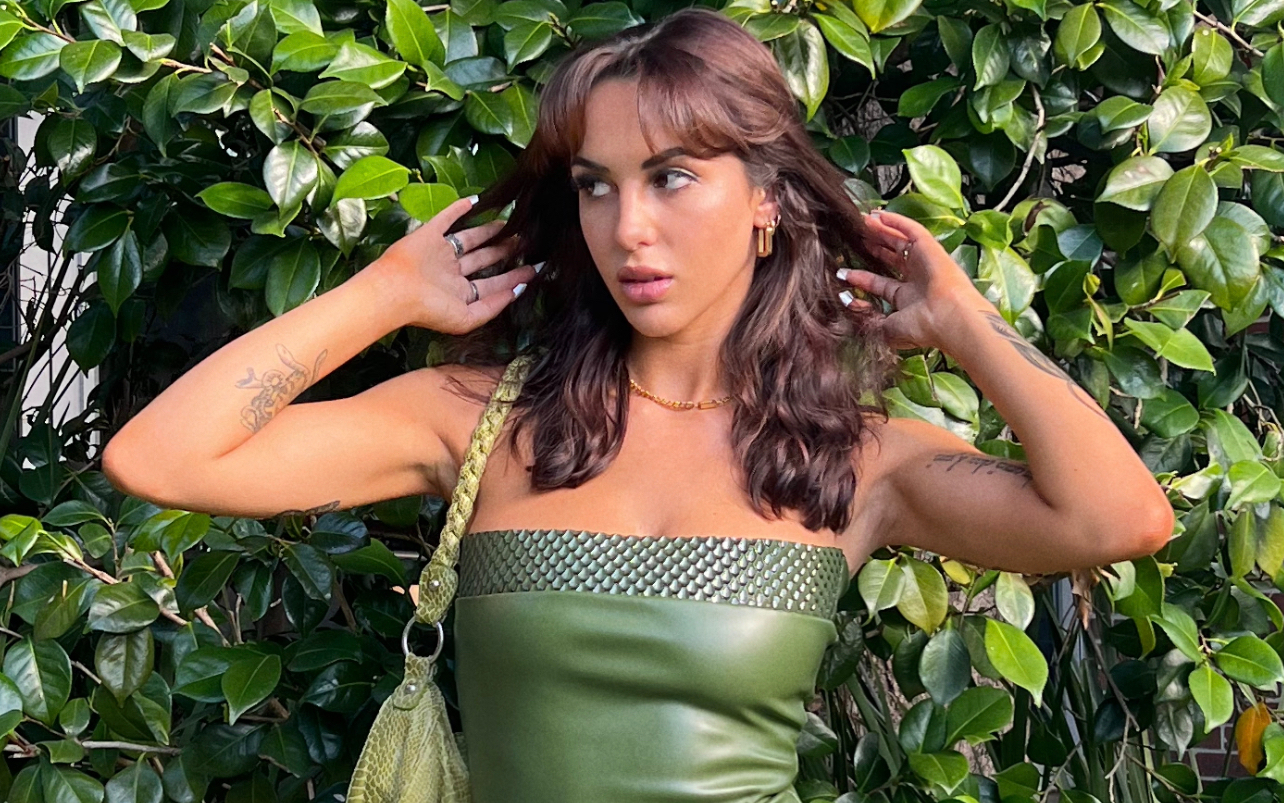 "Through this I discovered my passion for fashion design and decided to put all my archived ideas into my very own brand. The name ERA97 was derived from my love for fashion from all different eras of time, and 97 being the year I was born."
Monique set up the brand in January, 2021, after thinking about having her own fashion label for years: "I would always make comments that I wished I could have my own clothing brand as a teenager but never thought it was possible."
Images via: @b_g_dowd for RevivalRunway 2022.
Doing it for herself
After a year of hard planning, Monique was almost ready to launch Era97 but things didn't quite work out. 
"Originally I was supposed to have my designs and products manufactured elsewhere, however that fell through and the samples I received just didn't live up to the expectations that I had for my pieces," Monique says.
"This led me to then make everything myself instead. This made it far more challenging, especially because I do it all on my own, but far more rewarding."
Monique makes all her pieces by herself, sourcing her materials locally or from Europe. Her production style fits into the new 'slow fashion' movement; she is adamant that she does not want to over-produce garments.
"I do every aspect of the brand on my own, from the fabric sourcing, to the sketching, sample making, patternmaking, product making, photoshoot brainstorming, the photoshoot itself, editing content and videos, as well as the creation and editing of the entire website … let's just say I'm tired!
"Although the brand will continue to grow, I never intend to have my products in a ridiculously large bulk amount – I have said that no matter how big the brand gets I don't want the quantity of my products to surpass anything bigger than one room. I like the idea that once a certain amount is sold, it's gone and won't be made again," says Monique.
No set aesthetic
Era97 is an avenue for Monique to celebrate her love of fashion history, she turns her talents to any idea that inspires her which informs changes in her brand's concept.
"Era97 is intended to be a representation of my personal take on different eras of fashion. Over the years I intend to not just stick to, and have the brand be known for, only one particular style," Monique explains. 
"I love pieces that reflect different periods of time, especially corsets from the 1800s-early 1900s. Therefore, one of my most fulfilling moments is being able to incorporate a vintage looking corset in today's fashion. Overall, it's about blending periods of time together through my eyes and perspective."
It is difficult to put Era97 in a conventional fashion 'box', Monique pursues her imagination and creativity as it comes to her, sometimes creating an 80s vibe, sometimes 70s or 60s. The one connecting thread is quality production despite the seemingly simple cuts.
"The only word I can think of is creative. As mentioned earlier I plan to continuously switch up the brand's aesthetic – one collection will be my take on 90s staple pieces and the next collection directly after that could be 70s inspired collared mini dresses," says Monique. 
"I don't really care to have a set aesthetic for my brand, I just know that I love different styles of fashion and what I wear on a daily basis is very dependent on my mood and inspiration of that week, so I want to be able to emulate that in my designs."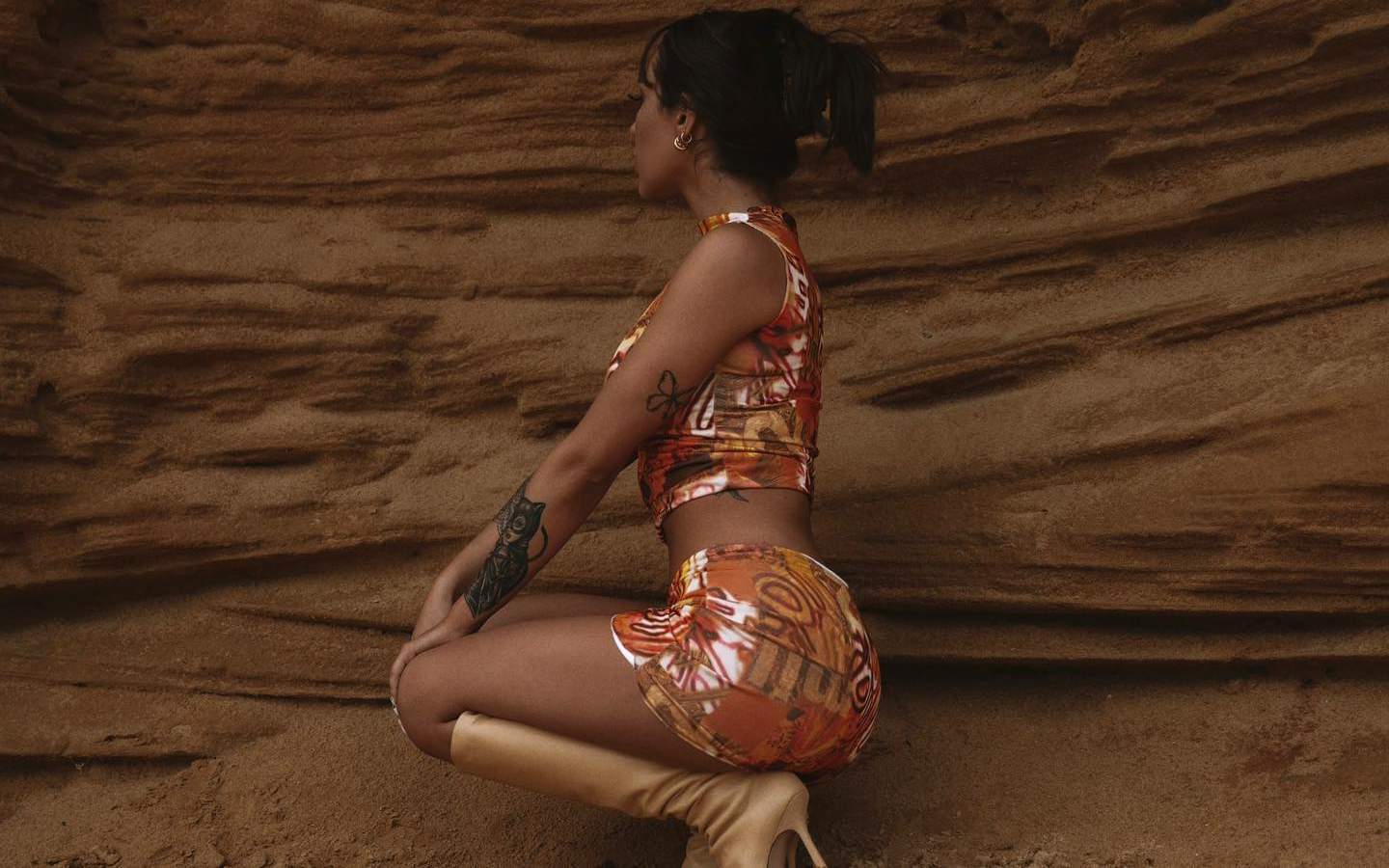 Monique is also inspired by iconic French fashion designer Thierry Mugler, who was known for his elegant yet sexy designs, and particularly for making 'cut-outs' popular. "Thierry Mugler will always be my biggest fashion inspiration. Mugler pieces are always instantly recognisable, and so striking and unique," says Monique. 
"I love the fact that his designs can sometimes be seen as unconventional with a lot of cut outs and skin showing, but still manages to make them look elegant and luxurious. His designs seem to utilise the idea of shape and silhouette and that seems really creative to me. Anything that goes against what is considered conformative or basic will always grab my attention."
As for the future of Era97, Monique wants to continue building the brand, and bringing her creative ideas to life.
"Eventually I would love to have an entire studio in Melbourne where I can have a small team, fit a little office, a sewing area, a photoshoot area, and an area to hold current and upcoming stock, that would be a dream come true." 
For more information and to shop Era97, go to www.eraninetyseven.com. You can also follow the brand on Instagram at @era.ninetyseven.