One of the core principles of Revival Runway is to create opportunities for emerging Melbourne creatives and fashion students to have a chance to work on professional level fashion events. We do runway shows, and we also do editorial photo shoots. All of the talents are volunteers; the models, the photographers, the makeup artists and the hair stylists, the creative directors, the stylists, the styling assistants … Everyone. We feature fashion brands from Melbourne's independent designers and fashion students as well. 
THE CONCEPT
This editorial shoot was directed by Collarts Fashion Marketing student Kate Sharpe, who put some hard thought into what we would shoot, and why. 
"When deciding my 'why' for a photo shoot, I got stuck thinking about what I wanted this shoot to look like, and what I wanted to present. Office wear, workwear, came into my head, why do we have to present a certain aspect of ourselves when we go to work, an aspect and presentation that may not feel completely like us all because we have to look 'professional'?" Kate asked herself.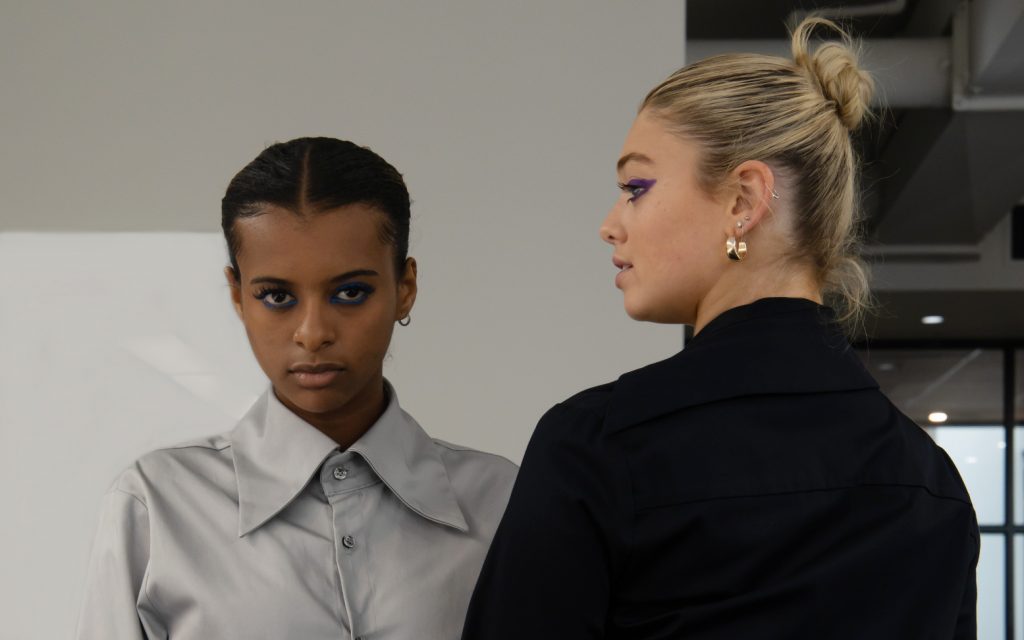 "This 'day in the office' shoot, plays on the boundaries of what people can wear to work and works with different designs and concepts to push the boundaries of what we now find appropriate when working an office job." 
Can we really now wear what we want to the office? Can we go crazy with colours like the work of Collective Closets? Can we bare more skin, or deconstruct our old office suits like Comos Bassington and Studio Cloudia? Or can we wrap ourselves in floaty layers of fine fabrics like Design By Jude? 
We say: "Yes! Absolutely!"
STUDIO CLOUDIA
Studio Cloudia was founded by Claudia Perez for her fashion masters at RMIT. In this collection she played with the concept of workwear by designing and reworking second-hand blazers, pants and skirts to create deconstructed designs. Although Studio Cloudia is not currently making ready-to-wear clothing – the garments are all handmade and upcycled – you can contact Claudia directly to shop her one-off bespoke pieces.
To contact Claudia, go to @studio.cloudia.
COMOS BASSINGTON
Comos Bassington, created by RMIT fashion student Daniel Mizzi, is a sexy new take on traditional menswear shapes for workwear. Daniel creates pinstripe workwear that pushes the boundaries of what might be considered 'appropriate' with low-rise pants, mini skirts and body-fitting shirts. The garments are designed to be non-binary; the traditional mens' styles are softened with more female fits. 
To shop Comos Bassington, go to www.comosbassington.com. 
COLLECTIVE CLOSETS
The team behind Collective Closets are definitely not afraid of colour. Founded in 2016, by sisters Fatuma and Laurinda Ndenzako, this slow fashion brand is designed and made in Melbourne featuring sustainable fabrics and specialist artisan made fabrics from Africa. The sisters are proud to be able to share their cultural heritage in the designs and ensure that everyone, irrespective of size or gender, can wear their products. Which is why we wanted to feature this brand in the shoot – there's no reason why we shouldn't be wearing more colour in the office!
To shop Collective Closets, go to collectiveclosets.com.au. 
DESIGN BY JUDE
Slow fashion brand Design By Jude, is one of Melbourne's best kept secrets. Designer Jude Ng has a background in fine art which surfaces in his clever mix of colours and almost three-dimensional shapes formed from sustainable fabrics. The garments are literally for everybody; they are non-gendered, loosely cut and super versatile – often with clever functionality that allows the pieces to be worn in multiple ways. The soft shapes give off an entirely different types of vibe to workwear. 
Shop Design By Jude at his store located at 252 Johnston Street, Fitzroy, Melbourne; or online at designbyjude.com. 
THE SHOES
For this editorial workwear shoot we were also lucky enough to be offered the chance to work with a major, international shoe brand, Fluevlog. While our mission at Revival Runway is to support local and Australian brands and businesses, we are also happy to accept some love from those who might not be local, but are about supporting fashion creatives and artists. The founder of the brand, John Fluevlog, has had an unconventional, and creative, career. Going against the grain since 1970, the conceptual and kooky spirit of the brand fits with Revival Runway's central tenet of never discriminating and including everyone.
Shop Fluevlog shoes at 1 Degraves Street, Melbourne; or online at www.fluevog.com.