BY JENNA WENG
Born in Australia, with Italian heritage, Melbourne-based designer Lucy Laurita specialises in making formal wear and unconventional wedding dresses. Starting her own brand as LEIELA in 2005, her label went through a challenging rebranding process in 2017 to become LUCY LAURITA, but has continued to follow her core design ethos – creating timeless, elegant couture beauty.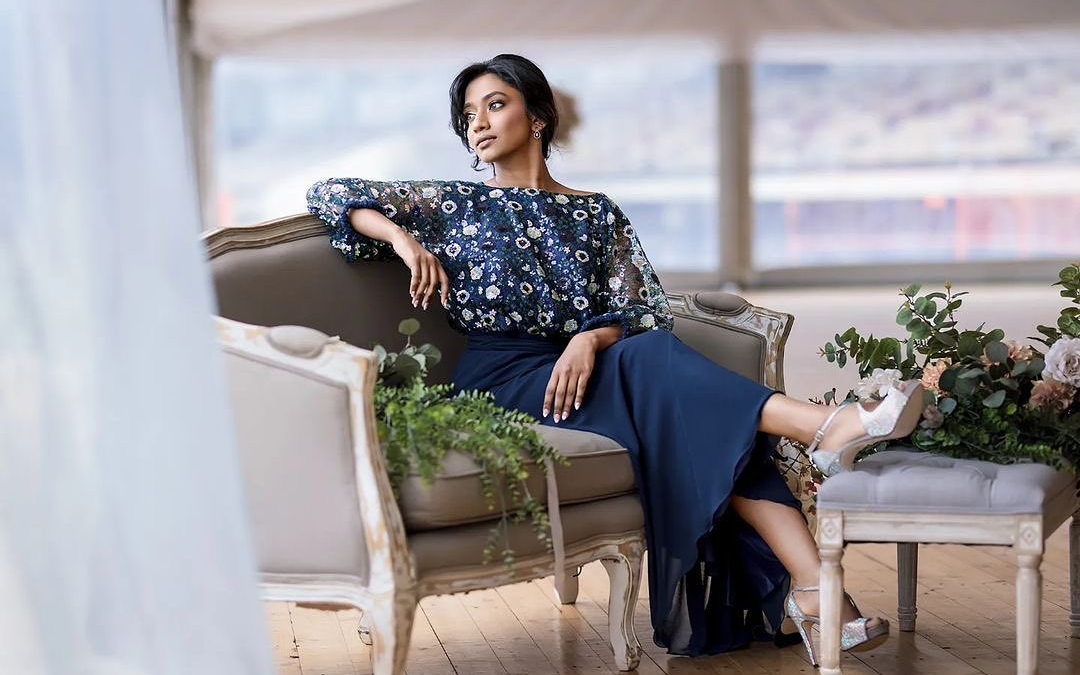 "My mentor Henry Weinreich Roth told me to stop using LEILA for a start and to use my own name, which was really hard for me because I was very timid. I was very much an introvert, and even just associating myself as a designer was very [challenging]," Lucy revealed. 
"But I love making formal wear because it's not a throwaway garment, it's something you buy because it creates memories and it's a part of your journey, and I love that I am part of someone else's story." 
ENDLESSLY REFINING DESIGN
With the satisfaction and reward she experiences as part of her customers' journey, Lucy continues to master and further refine her craft by adapting her designs to become more size inclusive, such as developing a unique way of cutting her shapes, and replacing zips with adjustable ties and bows to fit all body sizes. This idea stems from her own experience of inconvenient shopping for evening gowns. 
"Zips limit who can wear what. [The adjustments I made] can be easily adapted to various sizes, so when you have a bridal party, everyone can wear the same style and look AMAZING. It's a point of difference; I use different fastenings and my shapes are not what you'd find usually hanging on a rack for formal wear. 
"I know myself how hard and awkward it is when you go in to buy a gown, as not everyone is used to [how gowns fit]. I knew myself to be small at the top and have bigger hips, so that was an issue [for me]. 
"I [also] heard so many other people coming to me saying [that they] can't find anything that works, [resulting in] alterations in store which was another expense. So I decided to not look at what anyone else was doing and went on to do what I wanted for the industry," Lucy explains.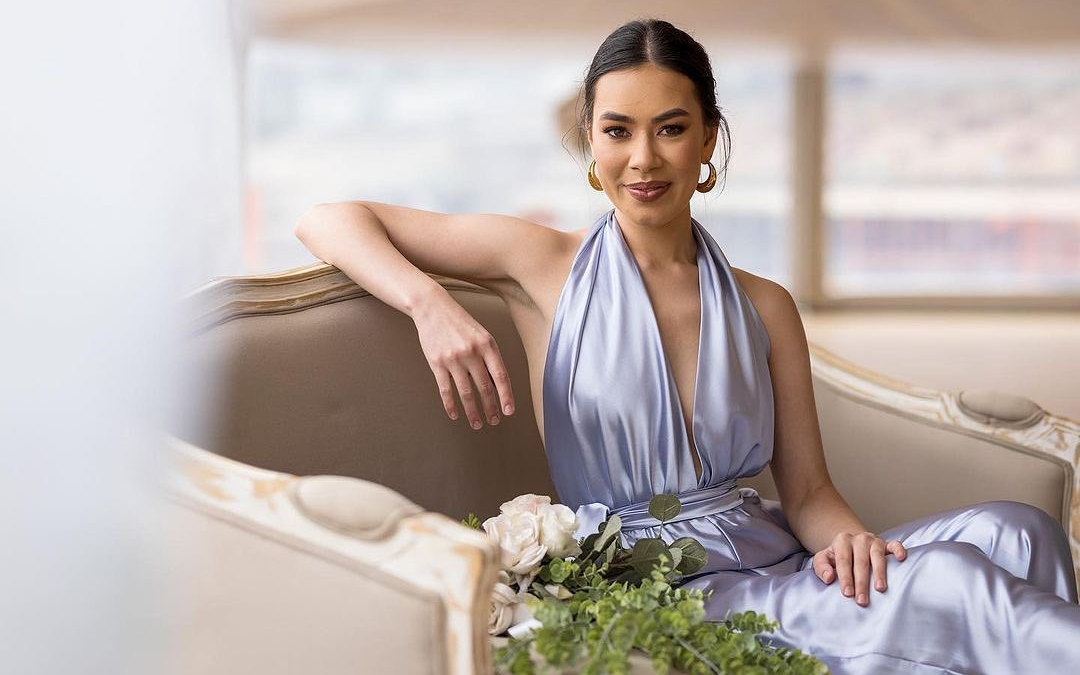 As made-to-order gowns, the framework of Lucy's designs are based around a core collection with classic, timeless styles and special pieces that are introduced into the collection from time to time, with commissions available only as an alteration of her work. 
Aside from evening gowns, the collection also focuses on the atypical bride with her non-traditional designs, mostly suiting the 'destination bride' and 'going-away beach bride', with all of them still able to be purchased as wedding gowns that could be passed down from generation to generation. 
SUSTAINABLE FASHION
Lucy strongly believes that sustainable fashion comes from conscious practices which should start from the fabric, as she constantly purchases leftover materials and deadstock for her garments.
"I don't choose fabrics that look like they would come from any particular time frame. [They have] no expiry date and are evergreen. The shapes of my gowns can definitely be passed down so there is no throw-away fashion. Also, there're still so many beautiful fabrics that have not been used and I can easily introduce something into the collection as a limited edition," says Lucy. 
Her creative journey was largely influenced by her mother, who was also a dressmaker. Her mother's ability to create fascinated Lucy and that fueled her passion for fashion. Before advancing to a career in the creative industry, she studied fashion design at RMIT and worked at London-based brand La Folie. After that, she became an assistant for Jenny Bannister for eight years, slowly getting involved in costume design for theatre productions. 
Now with her eponymous brand, Lucy's growing reputation and involvement in the fashion industry delineates her as a successful businesswoman apart from being just a known fashion designer.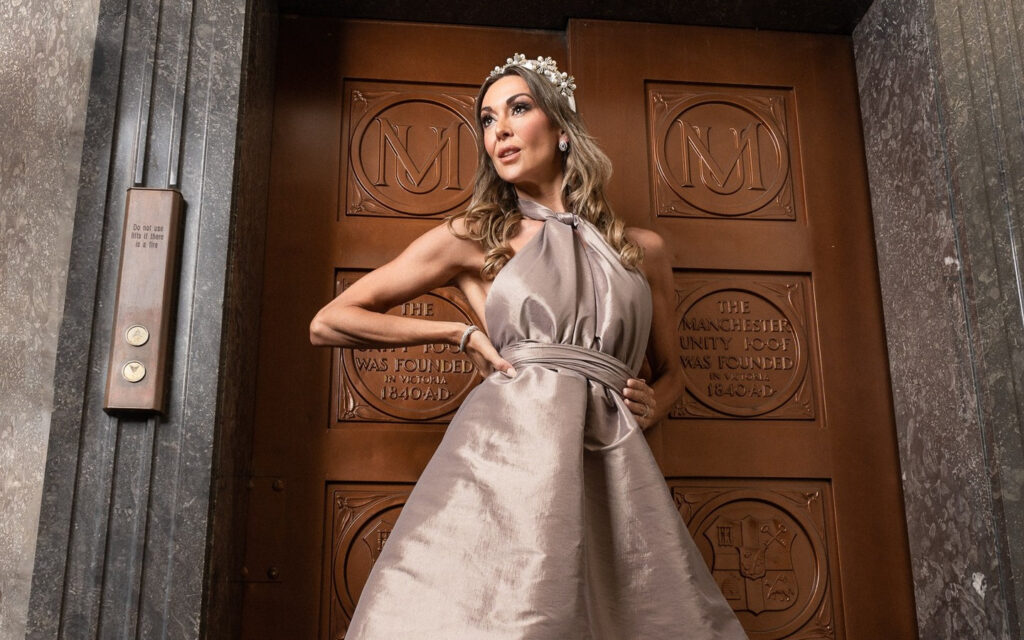 She shares her key points: "Just have a vision, your own vision. Don't look at what anyone else is doing, and don't worry about [it]. I've never worried about [not having] my own store, I [just] knew how I wanted to live my life and my work life. Life as a creative is not all glamorous, you never stop working, but you have to be passionate about what you do in the creative industry. There's no other way." 
She also talks about the importance of balancing innovation and financial knowledge. 
"[No matter what], it is important to have a business mind. I have maybe too much of a creative mind so I have to stop myself sometimes to actually make money. That's the hard thing, balancing between a business mind and a creative mind." 
THE DIFFICULTIES OF DOING BUSINESS
Since the pandemic, Lucy has been facing increasing challenges in her career as a Melbourne fashion designer, especially with issues of fabric availability, price increases, and reduced sales channels. 
"Since Covid, there are fewer and fewer fabrics and it's getting harder to find interesting ones. Everything's getting so much more expensive at the same time. [The decrease] of independent boutiques [is a problem too], so it's harder to sell without a shop front," Lucy explains. 
"However, I am fortunate enough to partner with Frockaholics where my garments are available for purchase online, and I am lucky to have that support," Lucy says, "My goal right now is to get back to one boutique per state, because when I started, I had 10 boutiques as there were great ones in every state. I don't want to expand too much, but it would be amazing to return to what it once was, and eventually something overseas would be great!" 
Lastly, Lucy advises all emerging young designers to stick with a niche and continually refine their craftsmanship, without having to break the bank with new collections every season. 
"Refine what [you're] doing and don't try to do everything. Pick a niche and make a small collection. Making a new collection every season costs [a lot], and that's how I've been running my business, by not having to create [something completely] new. You just have to be really diligent with that."
You can shop LUCY LAURITA online at www.frockaholics.com/collections/lucy-laurita, and discover more about the brand at lucylaurita.com.au and follow the brand on Instagram at @lucylaurita_designerblog.
Discover more interesting designers in our Brands & Designers section