It was her obsession with the beach that led Sydney designer Marielle Collins to create her own version of the ubiquitous sarong, the Skarong, in 2017. 
Having seen beach-goers struggle to tie the more bulky traditional rectangle version, Marielle wanted to give people a more user-friendly coverup. 
"Skarong is  inspired  by my  love of the ocean and the Australian beach lifestyle," explains Marielle. "I came up with the idea for Skarong while lying on Balmoral Beach in Sydney.  I saw how unflattering sarongs were and how hard they were to tie and I thought to myself, I need to design something that is flattering, versatile and can be switched easily into a dress, top or skirt.   
"I wanted to create a garment that was both elegant, and figure flattering yet comfortable and effortless to tie and wear. 
Building a brand in Australia
Perfecting the brand wasn't easy, says Marielle: "It took almost a year to perfect the pattern, which I did myself with many prototypes. I had to get the shape right, so that it can be worn as sarong style and as various skirts, tops and dress styles. 
"I knew that there needed to be different sizes to get the perfect fit for all body shapes and by using only stretch fabrics we achieved a really snug shaped contour that is both sleek but figure flattering. I also thought why not offer 3 lengths – Mini, Midi & Maxi so that every age group and demographic is covered.
"Because the Skarong design is so unique we were successful in obtaining a Global Design Registration – which is like a patent."
According to Marielle, the way the Skarong is cut offers "modesty where it is required so you wear [it] with confidence knowing you will never have a wardrobe malfunction."
The Skarongs are available in four sizes – extra small, small, medium and large – and three different lengths – mini, midi and maxi – that enable you to create a variety of different looks, and also give you a range of coverage depending on your personal style choices.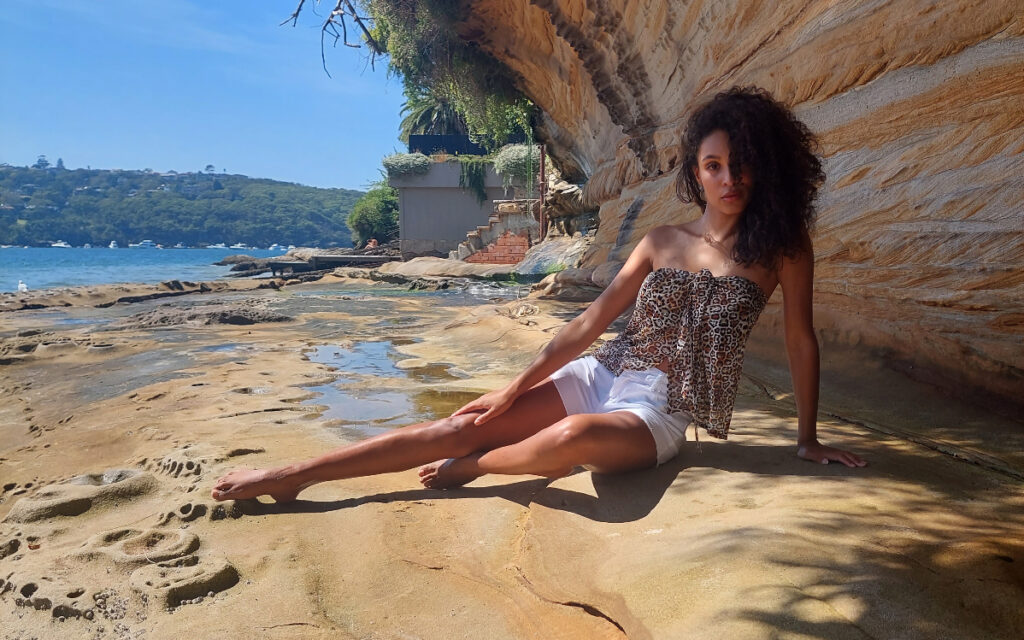 There are a range of materials and colours available including an Eco Mesh version. Eco Mesh is made from Repreve polyester yarn which is made from around 92% recycled plastic bottles; producing fabric from recycled plastic produces fewer carbon emissions than using virgin polyester. 
Other fabric options include a metallic soft jersey fabric and plain colours and pretty prints that come in a soft and stretchy polyester-spandex.  
Sustainable and Considered
"We plan on increasing our range of  ECO Skarongs and are always looking for suitable sustainable stretch fabrics that use recycled yarn," Marielle says, also explaining that being 'Made in Australia' does add some difficulties. 
"As we have to rely on Australian fabric wholesalers we are limited by what ECO fabrics they offer but as our business grows we will be able to buy ECO fabrics directly from the mills in Europe, Asia and other countries who are embracing sustainable fabric manufacturing," Marielle says. 
"It is [also] increasingly hard to find Australian garment producers who can manufacture to our exacting standards as we don't compromise on quality.
"We are passionate about helping the environment and besides our ECO Mesh fabrics, our swing tags and business cards are made from recycled paper. We try to avoid any plastic packaging for our online and wholesale customers and pack in recycled tissue paper. All our small fabric scraps that cannot be repurposed are taken to recycling facilities and never put into landfill.
"We strongly believe that finding the right balance between making a profit and ensuring our makers are treated ethically is extremely important to us. We are now authorised to display the 'Australian Made' logo on our website, social media and on our  merchandise.
"All Skarongs are made to exacting standards with double turned under seams with a high end finish (no overlocking on any seams), so our garments last season after season. Some of our customers have said they are still wearing theirs after 6 years when they want to add to their existing Skarongs.
"We only have small production runs and mostly on-demand manufacturing so that apart from keeping a very small amount of stock on hand we don't have deadstock," says Marielle.
Future plans for Skarong
Marielle says that she has always planned on expanding the range of items that complement the core product.
"We are planning on introducing a swimwear range with prints and plains that match exactly with our Skarong fabrics and with my textile design experience I plan to design our own signature prints for Skarong," says Marielle.
"Recognising Australia's Indigenous culture is extremely important to us so we would also like to collaborate with local Indigenous artisans to produce a print that will be wholly and uniquely Australian.
"I am currently working on an easy-to-tie head turban that is produced from our leftover fabric remnants. Although these head turbans will be available on our online store as an accessory to coordinate with our Skarongs, we will also be donating these to cancer patients who have lost their hair undergoing treatment through some of the cancer treatment centres in hospitals. 
"I have friends that had cancer and this was my inspiration to design a turban that was both flattering and easy to tie."
Alongside the turbans, Marielle has already started working on a design for a top also made from their larger fabric remnants which can either be worn separately or with the Skarongs.
"We will also be offering other accessories repurposed from fabric remnants –  but this is still in the design process."
On top of the new products, Marielle is also working on expanding the brand internationally: "We have only been selling within Australia and know Skarong will sell well in the resort areas around the world as it already sells well in Australian Resorts."
Marielle says her product is "extremely popular with tourists as they know that they are buying a product that is not only Australian made, an original Australian concept but also quintessentially Australian".
"We also plan to sell Skarong on cruise ships and have had discussions with companies that stock cruise ship boutiques and have other ideas for the Skarong brand so stay tuned."
You can shop Skarong online at www.skarong.com, and follow the brand on Instagram at @skarong.